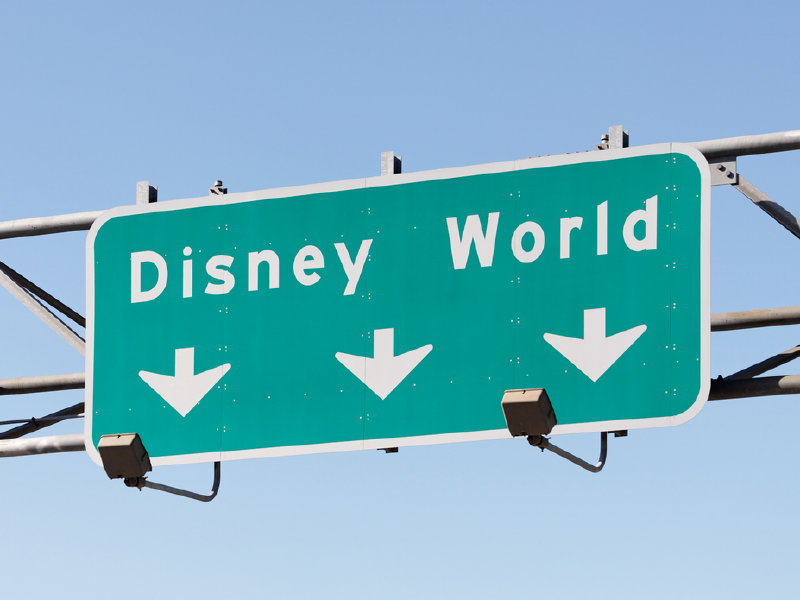 My kids and I make our annual family trek from greater Milwaukee to Walt Disney World every spring. We are on trip number 12 together making lifetime memories.
I started going to WDW pre-children, mostly for Toy Tips business and speaking at conferences. But when my son Maxx was born, a trip south took a whole new role. Just to see the smile on his face (at age four months) when he first saw Mickey Mouse was worth every second.
293.8K
Top 10 American Companies That DON'T EXIST Anymore
When my daughter Mia was born, toting two kids could have been a challenge but we quickly learned to balance our time and fun with age-appropriate entertainment. I've been documenting each trip as a parent with ideas on the best things to pack, best parks to visit and the best rides with kids and without them.
Below is my personal opinion on how to "do" Disney!
PRE-PLANNING
Start by reviewing resources, advice and tips, on-line, in books, or from the advice of experienced friends. WDW can be overwhelming and is geared for all ages; you want to be sure to do things you really want to do, but still make time to discover the rest! There are many bloggers writing reviews of their personal experiences. The reviews that offer the most details are usually the most helpful.
In today's economy, parents need to carefully determine a realistic budget for a family vacation, knowing there will be last-minute changes to plans wherever you go.
Allow your school-age children to help with the planning. The more excited they are and the more input they give will reduce stress once you get there. For kids, waiting in line for rides may not seem as long if they are the ones who can't wait to do what "they" planned. And splurge for the Park Hopper Pass. You can visit more than one Disney theme park in the same day. There is free transportation between the parks and you usually can get at least two in! (Three is pushing it.)
Once you determine travel dates, airline reservations and the number of days you plan to spend in the WDW parks (I never recommend less than four), decide if you will stay at one of the WDW properties. If you do, you can avoid having to rent a car (that is a nice expense to save on) and avoid worry about directions or finding your way through the WDW property.
Worth the Read: "The Complete Idiot's Guide to Walt Disney World" by Doug Ingersoll. The 2010 edition is the most current in bookstores but there are recent changes to the parks so check the Walt Disney World website.
Disney MOMS panel: The Mom's Panel is a chat room on the WDW.com website where you can log in and ask questions of the members, who are professional Disney-goers. You can also search for answers to many commonly asked questions that are kept in their database and arranged by topic or keyword. You won't find advice from a firsttime parent but you will find advice on questions that many parents would like to know ahead of time. I found this to be a wonderful way to ask those real-life parent questions to other parents.
Example: What do I do if I have three older kids and a baby? How can the kids ride on a ride even though I can't? Answer: The ride-option is to wait in line, but don't get on. Just wait on the other side when they get off. If you really want to ride, you can do an adult swap parent switch so no one misses out on the fun.
ACCOMODATIONS
On site? Off site? Or both?
Well, this depends on how long you stay, how many people are with you, if you want to rent a car or not, and if you plan to do things in Orlando outside WDW.
Personally, I love staying at the resorts. And we love to stay at a different one every time we go. Each has a theme and a great pool, which – you will learn quickly – needs to be factored into the day (or night). Most pools are open late but parents must be there to supervise. Kids love pool time and find this as exciting as some attractions at the parks.
This is the best part. If you are staying at a WDW resort, there is never a need to rent a car. WDW buses will pick you up at the airport, pick up your bags at baggage claim and magically deliver them to your WDW resort room. You need a reservation to secure this service and it is free but don't forget to make it at least a week in advance before your leave. You can do that online at wdw.com
DINING & CHARACTER BREAKFASTS
I recommend you make advance reservations for character breakfasts, and other dining reservations. You can do this by calling (407) WDW-DINE, and it's easiest to program the dining reservations number into your cell phone. You can either choose a dining plan or simply "spend as you go." When my kids were very young we just ate as we went through the parks as I never knew what time hunger was going to set in and I didn't want to to stuck to a certain time. Although we don't normally choose the dining plan, it is not too expensive. It does offer flexibility, especially with younger children (they may not be hungry, can share a meal with you, etc.)
Cinderella's Royal Table –This is a "must see" for any princess at any age. You will be able to see all the Disney princesses and get photographs and signatures. Grandmas love this as much as four-year-olds! You must make reservations but if you are not able to get one, it never hurts to ask again once you arrive. You just may be surprised. On a whim, we literally walked up to the Cinderella Castle in Magic Kingdom and asked if there was any possible openings for the day and the hostess took us in two minutes! Thank goodness for the people who cancel! So, if you are not able to get a reservation, don't give up hope. You may also try the dinner at Epcot. Refer to the country of Norway and the Alkershus Royal Banquet Hall.
Chef Mickey– No one can leave WDW without seeing Mickey Mouse, right? So, here is where to cinch that. Located at the Contemporary Resort (where the monorail runs right through the resort), this is the best buffet breakfast with so many options no one will leave hungry. Mickey and Minnie will visit your table and so will some of their friends. This is a must-do especially if this is your family's first visit to Walt Disney World.
OPTIMIZE YOUR TIME
Don't plan on sticking to your plan hour-by-hour or even day by day because there is so much new to discover. We all know that traveling with kids changes plans. Keep in mind, wait lines for rides can be long if you don't get a FASTPASS. Make sure you take note of the hours for each of the parks. Check the Walt Disney World Website at disneyworld.disney.go.com for updates each week.
Most importantly, you want to arrive early. Morning is the best time of the day to get a FASTPASS if you don't want to stand in longs lines. Plan ahead for any special dining reservations that you want. For three years in a row on our visit to Epcot we tried to dine in the country of Canada without a reservation. Some families book as much as six months in advance for their favorites so keep that in mind if you really want to make a reservations at one of the countries. Their steaks and cream cheese mashed potatoes are worth it! If you don't have a reservation, though, don't give up hope. There are plenty of places to eat at Epcot that don't require reservations. My favorites are Germany, Italy, China and Mexico but each one is unique.
When you plan your daily itineraries, remember that the best-laid plans still do not always work out as expected. Consider multiple factors, like the weather (heat/rain/etc.) and ages of children. Be able to recognize cues when they are hungry, need a nap, are tired from the sun, are ready for swim time or are just plain done for the day.
I find it's good to split up the day because right when you hit the "Mom, let's go back to the hotel to go swimming" phase, they are ready for dinner and more action right after that. On certain days, one park has Magic Hours for resort guests and may open early or stay open late. You may not know which will have this until you arrive but juggle that into your schedule because the wait lines slow down and the kids can ride their favorites, sometimes over and over again. But you have to show your resort key each time you stand in line for a ride so keep it handy.
PACKING
Bring ponchos. Don't laugh. Get them at the Dollar Store. I didn't listen to my sister-in law and they cost me $8 each when I was caught in the rain. Raindrops are normal for Orlando so many times it won't ruin your whole day but you just have to deal with it.
RESORTS
I have four favorite resorts that I think are best for families with children under 8. I found them to be very comfortable for family travel.
The Boardwalk Inn Resort
The Boardwalk is nostalgic and fun. It's centrally located and really easy to get around. I love it in the morning to go for a run (with a jogging stroller). Grab a muffin at the Boardwalk Bakery or treat yourself to a full breakfast at Iron Chef Cat Cora's restaurant, La Koussina. The healthy options prepared just for kids will make any parent happy. Or even just have a cup of coffee while the kids sip strawberry milk. Sit and enjoy watching the birds on the lake (just don't feed them!). Later in the day, rent a surrey bike and really feel what it is like to be on the Boardwalk. Just don't miss the slide in the pool. You will slide right through a clown's mouth. Fun! If you forget a swimsuit, Thimbles and Threads is a great little shop with super-cute beachwear.
Bay Lake Tower at the Contemporary Resort – This is the condo resort steps away from the Contemporary. There is a private key entrance and you need to check in at the Contemporary upon arrival. Conveniently located for a quick walk to Magic Kingdom, you can catch the monorail in the Contemporary too. The deck has the best view for fireworks. The kids will enjoy the pool which had an amazing slide and you can play shuffleboard and even rent grills for family fun. There is a white sandy beach on the property overlooking Bay Lake. For age-appropriate children, one thing you may want to consider is to rent a watercraft if your family is interested in waterskiing and other boating sports.
Animal Kingdom Lodge –This is so fabulous, I have stayed twice! The best way to describe this experience is that you will feel like you checked in to a safari in Africa. Book a savanna room and each morning you will hear the animals and see them outside your room (No, you can't reach them). They are not too close but not too far. Throughout the hotel are special areas to take a walking tour with your children to see 21 animals from African spoonbills and red river hogs to roan antelope and reticulated giraffes. I find it to be very quiet and the animals are an extra treat to see through the many windows throughout the resort. Keep in mind, no plastic straws or lids are used in the entire resort for the safety of the animals (same with Animal Kingdom Theme Park).
Art of Animation Resort – Art of Animation is the newest resort, built in 2012. The rooms are beyond amazing and it is a value resort so the price is right (Walt Disney World has three levels of resorts: value, moderate and luxury). This is what I would call the coolest resort, if you want to feel like you are in the pages of a story. The animation drawings throughout this resort are unbelievable and the look and feel of it screams fun!
The highlights include two full bathrooms (you read that right) one queen bed, one pull-out comfy couch and one pull-down bed that transforms into a table. The swimming pool offers underwater narration by Dory from "Finding Nemo" as you swim and the decor is like you have never seen before. There are four themed areas to choose from: Nemo, Little Mermaid, Lion King and Cars (Try and book the one your child identifies with more).
Here is a video of the resort and the inside of one of the Nemo rooms that my daughter and I made just for you!
THE THEME PARKS
Each one has its own charm and I recommend visiting all. However, if you don't have time, the one not to miss is Magic Kingdom. This is the one that truly captures the magic of WDW. The parades, the rides, the entrance and the characters walking all around make everyone feel like a kid again. And if you are a kid, there is no better place to be at that time.
If you are pushing a stroller, stay off the street on Main Street because you can get the stroller wheels stuck on the trolley's tracks. You can most likely get it out easily, but it's a pain. I like the sidewalks; plus, you don't want to miss the window shopping. On Main Street, my favorite stores are the confectionary, the barber shop (where, yes, your little boys and dads can get a real haircut with no appointment necessary, but you may have to wait) and the souvenir shops. There is so much great WDW merchandise that you will only find here. It is really worth the time just for the shopping.
There is not a moment where the magic in this kingdom does not move you. Whether you are exploring in the new Fantasyland, strolling on Main Street, watching a nighttime parade, riding Splash Mountain in Frontierland, taking the Jungle Cruise in Adventureland, visiting the Hall of Presidents in Liberty Square or dining at Cinderella's Royal Table, each land in the kingdom will keep your mind moving and kids enjoying each new stop. The daily evening fireworks are a must-see.
Don't miss:
The Pirates League – This is the place where your child can transform into an official pirate, take the pirate oath, receive a pirate name and choose a face-painting of their favorite pirate. For an additional charge, you can buy a costume and order a photograph. I think the entire experience is worth every penny. I was amazed at the work they do inside the League and, of course, you must then take your new pirate on the Pirates of the Caribbean Ride. This is one of my favorite rides and we usually never leave Magic Kingdom without at least three visits here! Make your reservations early and plan to watch your child be transformed into a pirate. Get your video cameras out for the Pirates Oath. You'll want that on videotape!
It's A Small World Ride – On this iconic ride, the whole family will have the song memorized by the end of the ride. Then, get on again. This is my absolute all time favorite ride in all of WDW! It has recently been updated so if you have not been there in a few years, check it out. The dolls are mesmerizing and even the smell of the water is fresh.
Peter Pan Ride – This is my daughter's favorite ride in all of WDW. Although, she added Space Mountain as a close second. Each time I have been in Magic Kingdom, the Peter Pan ride always has the longest lines even for the nights with the Extra Magic Hours. Always.
Mickey's Philharmonic – Toddlers and preschoolers may not like this because of the 3D effects and the 3D images that come out and greet you, but it's not scary. Just be aware of that. If that happens, a Disney Cast member will help escort you out.
Buzz Lightyear Ride – Challenge your kids as you ride through a lasertag game of obtaining points and have your picture with Buzz taken after. This is a must-do. You sit side-by-side in single cars so if you are traveling with two children, one will have to go alone. I usually lose so I'm used to it but it has now become a tradition between my kids to see who can beat Mom's bad score better!
Wishes Fireworks – The most important thing never to miss! The Disney Electrical Parade features the most beautiful music (look it up on You Tube). This happens each night at 9 p.m. and people start scoping their spots as early as 6 p.m. but you will always be able to catch a glimpse at anytime. If you are staying at the Contemporary of Bay Lake Towers, you can see them right from your hotel. The themes of parades change often so it's best to research online before you go. All parades are excellent. I never saw one that didn't bring tears of joy.
Get a Dole Whip – just one. You'll see why! The best cool refreshment in the park and you'll find it on the walk to Frontierland.
THE NEW FANTASYLAND
This ultimate experience will transform your sense of wonder into a realistic world of a live storybook.
Your first stop should be under the Big Top in Storybook Circus. Visit Double Dumbo! Without a doubt, no matter what your age, get in line and ride the elephant! Because of the popularity, Disney made two and created an experience for those who wait in line in an air-conditioned tent. Very cool (no pun intended).
Next, go straight to the Under the Sea- Journey of the Little Mermaid. This attraction reminds me a lot of The Sea with Nemo and Friends at Epcot because you sit in a shell and ride through the sea visiting Ariel and her adventures. You'll need a stop at Gastan Landing to visit Gaston. Try the Foo's Brew. There is no alcohol in it but a lot of marshmallow-y foam. My kids loved it. I did too. As you head to the new Beast's Castle, stop at Enchanted Tales with Belle. This is one storybook experience you do not want to miss. Your children may get a "part" in a play and regardless if they do, this play is absolutely adorable. At the Beast's castle, it is hard to get reservations the same day at the Be Our Guest Restaurant because it is so new but always try. The Beast's castle is a must-stop to see once and maybe twice in the same day!
Here is a Toy Tips video on our visit to the new Fantasyland.
ANIMAL KINGDOM
Think of a zoo and a safari. Now combine them and Animal Kingdom is what you get! As you walk in, you'll feel like you are in a jungle, rainforest and in parts of Asia. I can't make a trip to WDW without a morning trip to Animal Kingdom. I find breakfast at the Rainforest Cafe kick starts the experience and we have factored this into our annual trip. The kids look forward to breakfast here. The bacon is really good.
Don't miss:
Kilmanjaro Safari – I've never been on a real safari in Africa but I've been on this one more than 10 times and each time, it sure feels like I am in Africa. The animals are up front and close and it's easy to get incredible pictures. It recently went through some changes so if you have not gone in the last year, you will notice the ending is different.
Festival of the Lion King – This is unbelievable and will leave you with a warm feeling in your heart. The production is so beautiful and moving, you will feel it should be on Broadway.
Flights of Wonder- This is the most amazing bird show I have even seen. It makes for a nice break to sit for a while in the shade too. I never realized how much I appreciated the intelligence of birds until I saw this show.
Expedition Everest – This roller coaster is not for the faint of heart. When my son was seven, he insisted we both go on. I did not have a FASTPASS and we stood in line for over two hours. I never thought I liked going backwards on a roller coaster. Now I do!
The Jungle Parade – This one is a must-do, that's for sure. Mickey and friends are all dressed in safari garb singing and dancing – that really puts you in a groovy mood!
Ragin' Rapids Water Ride – Don't pack a poncho or towel. It won't matter. Plan to get drenched! Best to ride on a hot day! This is my kids ultimate favorite because it is so much fun to watch the reactions of the people coming off the ride as you wait in line to get on! Smiles everywhere!
Eats:
Great coffee and ice tea at Safari Coffee in the Discovery Island Section. Don't miss the stroll around the Tree of Life. The It's Tough to be a Bug Show may be a bit too much for little ones who don't like loud noises and quick reactions.
Yak and Yeti – If you can get a window seat at around 3:55, you'll have the best view as the parade goes right on by! Many characters are tall enough so you will not have a problem seeing them.
Pizzafari – The pizza is very good and you have your choice of cheese, pepperoni and veggie.
HOLLYWOOD STUDIOS
This park is really best for older children who want to understand movies and see how they are made. We've been coming since Maxx was three and there was just enough for him to do in one day that, by naptime, we didn't really miss anything. Now that he is 11, we need the full day. And Mia, at 8, is ready for everything from the Voyage of the Little Mermaid to the Tower of Terror.
Toy Story Mania in 3D is by far our most favorite attraction but FASTPASSes are usually gone by noon. So, expect long wait lines or get there super early. You could come for Magic Hours at night and hope the lines are less lengthy. You most likely will be able to go on a few times this way.
Have lunch at the Sci-Fi Theater. Upon arrival of a reservation or wait in line, you are escorted to your "car" to watch old movies, commercials and clips "drive-in style." What I found the most fun is how quiet kids get while watching. Love that! The food was great: burgers, shakes and fries or healthier options, of course. It's a bit challenging eating in a darker room, so use your cell phone light to read the menu (At least I did).
Don't miss:
Indiana Jones Epic Stunt Spectacular – This is a must-do for those who want to learn how stunts are done. I don't recommend this for small children, though. They may get scared and it does "look" dangerous, so they may not understand what is really happening. Same with the Lights, Motor, Action Extreme Stunt Show. I passed on that one but on one trip my husband couldn't miss it. For car enthusiasts, it's a must-see.
The Great Movie Ride – This is a refreshing ride through old film scenes and Hollywood moments with a bit of a surprise (But I won't ruin that for you!). Take the kids on this one, but not little kids who could get a bit scared of fake fire. It's not scary for older kids, though.
Rock n' Roller Coaster Starring Aerosmith – This super fast roller coaster features loud music and you'll go upside down on this one. You will also go from zero to 60 in a few seconds and your stomach will remember that!
The Legends of Jack Sparrow – New in 2012, this interactive experience allows guests to enter Captain Jack's cave and be part of the experience to battle Davy Jones One of the best eight minutes you'll spend if you love pirates! It can be a bit scary for the little ones. You're required to stand but It does have wheelchair accessibility and we saw many older adults really enjoying this!
Regardless of what you have planned in your day, don't miss the walk through Walt Disney: One Man's Dream. There is a 15 minute film at the end of your walking tour. Looking at the artifacts, drawings and early memorabilia will leave you in awe of all this man created. And we thank him!
EPCOT
I always seem to visit Walt Disney World at the time of the Flower and Garden Festival. March through May is a beautiful time to see flowers in full bloom. The tapestries are shaped like Tinkerbell, Pluto, Mickey, the Princesses, Buzz and Woody and many others. A relaxing stroll through the gardens will make any tired baby enjoy a stroller ride.
Do not miss the Countries. You'll feel like you went on a European vacation just by walking around this area.
Kids can get passports and stamps at each country (at the Kid Cots) and can do little art projects at each (no cost).
Take this opportunity to teach them about foreign lands and if you happen to be of the heritage of one of them, don't miss that "teaching moment" to talk about your ancestry.
Germany is a great place for families to eat buffet-style. We ate late and walked right out into the fireworks show.
France- Bon appetit! Be sure to peruse the gift shops for wonderful perfume and watch the movie on France. You'll feel like you are really there.
Italy – Everything you think it will be. Order the blood orange aqua fresca. It's so refreshing!
Japan- Worth a sip of soda with a marble. Yes, you push a marble into the bottle, but it's impossible to drink the marble or even get it in your mouth. It's a fun novelty and it's Japanese. Find this at the gift shop.
United Kingdom- If you don't have a reservation, there is a walk-up counter to get authentic Fish and Chips and they taste really good.
Mexico-The artisans have some incredible pieces to sell and don't forget the boat ride to learn more about the history of Mexico.
Norway- Make sure you visit the bakery and take the Viking boat ride. There is also a Royal Table Dinner with the Princesses. So, if you are not able to get a reservation at Magic Kingdom, try this one.
China- This is my favorite as far as authentic architecture.
Morocco- If you dine here, you can see a belly dancer show. Be careful – she may bring you up on stage like she did with me!
Canada- There is a short film to familiarize yourself with the country and a waterfall in the back.
America-The mid-afternoon march is a pleasant surprise. It's fun to have your child march along with the Daughters and Sons of Liberty and to take home a replica Declaration of Independence at no charge. It was great capturing Mia on camera during the presentation. It felt like we were living in America at another time.
There is something for everyone.
Don't Miss:
Reimagined! Spaceship Earth -This is fun! You ride around in a cart learning about the past while choosing what you want in your future. Be sure to bring your friends and family emails addresses because you can email a free postcard.
Test Track – This redesigned thrill ride is reopened after it was closed for a while. You may remember the old Test Track by GM but this new one is sponsored by Chevrolet. This is a high-speed simulation vehicle where riders first get the opportunity to build a concept car and then ride their car as a high-speed thrill ride around a racetrack. Throw your hands in the air for this one. A must-do – you will feel the experience of a real racecar driver and it is awesome! However, we don't suggest this for children or adults afraid of fast speed.
Mission Space – Don't ride this if you are claustrophobic or afraid of small dark places.
The Sea with Nemo and Friends – This ride is best for families with children. A relaxing ride on a quest to find Nemo! I like to go on this ride before dinner, then head over to the nearby Coral Reef Restaurant. You'll be surrounded by aquariums of fish for a great dinner atmosphere.
Soarin – Kids must be 40″ tall, but this ride gives you the thrill of hang gliding without ever leaving your seat! Most children love this ride but for kids afraid of motion-sickness, you may want to think twice.
CLOSING THE NIGHT – DOWNTOWN DISNEY
Whether you are ready to rest, swim in the pool, take a trip into Orlando, or enjoy some other nightlife, you must visit Downtown Disney. You can get there from any resort shuttle but you cannot get there from a shuttle from the theme parks. If you are driving, there is free parking. You'll find restaurants galore and plenty to do while waiting for dinner. Our favorites are the Raglan Road and Cooke's of Dublin for their authentic fish 'n chips. Bongo's has amazing Cuban Food, and T-Rex is a must-go to for any dinosaur fan. You will be surrounded by huge animatronic dinosaurs and the feel of the restaurant is similar to the Rainforest Cafe. After you eat, visit the gift shop where your kids can make a stuffed dinosaur. This comes from the Build-A-Bear folks, so you know what you will get, but the cutest part is that the dino's tail sticks out of the box! Too cute. Really.
Don't miss:
Bibbidi Bobbidi Boutique – This is a magical experience. Transform your little princess into a real one! See a video here. A bit pricey but something she will never forget. You can also find this at the Magic Kingdom in the castle. You can bring in your own costume if you choose not to buy one on property.
Ridemakerz – Create, build and make your own R/C vehicle. Both Maxx and Mia made a car and, let me tell you, WOW! From the options available to the tools they used, (all safe) this experience really allowed them to boost their self esteem to rev up their imaginations! These cars can run you from about $30 at the lowest and to over $100 if you make it extra fancy. Their cars had sound, R/C, lots of glitz and the decals and ran about $84 each.
When we packed the cars in our luggage to go home, we did not have a problem taking them on as a carry-ons, but I would still pack them if there is extra room in your suitcase. (Which reminds me: bring an extra suitcase. No ones goes home empty-handed!)
LEGO Imagination Station -This is your chance to build a car out of LEGOs and race it on an incline. If you missed out on the Pinewood Derby as a kid, here is your chance to enjoy that thrill!
The World of Disney – By far the largest and best souvenir shop to get everything you ever wanted that is Disney. They have everything from princess costumes to candy.
The Pantry – My favorite collection of Disney ideas for your kitchen and home. There are some really unique ideas here and I never miss a stop without finding fun new things on any trip.
WATER PARKS
I've never made it to Blizzard Beach and Typhoon Lagoon water parks yet to do a thorough review. I would suggest to check out the Disney Mom's Panel for this one. I did, however, take surfing lessons with my son and it rocked! Kids must be age eight or older, strong swimmers and parents need to be fit. The lessons are taught by instructors of the Craig Carroll Surfing School and the lessons are given in the Surf Pool at Typhoon Lagoon early in the morning before the park opens.
LAST MINUTE TOY TIPS
Go the the Disney Store in your hometown. Stock up on the character shirts. You'll find them a little less expensive and hide them in your suitcase to surprise the kids. When my kids were really little, I told Mia that Snow White and Cinderella visited her at night and surprised her with a shirt in the morning to wear on her first day at the Magic Kingdom. She was thrilled with the magic Mom made!
That didn't work for Maxx, though. He wasn't the least bit interested in princesses… ever. One pirate patch did the trick for the whole trip when he was four and he never took it off.
If you do have a car and a kitchen in your resort or off-property condo, drive to Wal-Mart (open 24 hours) and stock up on food. We did this when the kids were ages four and two. Maxx could not make it past 3 p.m. in the parks and I didn't want Mia to nap in a stroller all day, so we had a home-cooked meal every night. It also made our family experience feel like home.
Need a cool drink? Freeze bottled water and put them in the bottom of your stroller. They melt perfectly into icy cold water.
MEETING THE CHARACTERS
Bring your own notebook, but don't ask a character to sign a napkin or business card you pull out of your bag. It must not have a logo on it or they can't sign it. You can buy big huge pencils in the souvenir shops so the characters can write more easily.
Enjoy the parades. I mean really enjoy them. The music is moving and the floats are amazing. They may bring you to tears and that is okay too.
Don't stress. No matter what you do, where you do it, or what little surprises life will bring on your days at WDW, it really is magical. I never met a person who didn't like Disney World.
Bathroom breaks. Use the family bathroom when the kids are little. It's just easier.
Before leaving your resort, check the drawers, under the bed and in the closet. You'll probably find something you left behind!
Enjoy your time with your children and making these special family memories. They will carry these on to their own children when they return as parents. Everytime I leave, I can't wait to go back! There is always something new to experience on each trip!
Coming soon to Walt Disney World is the new creation of Disney Springs in Downtown Disney. Launching in phases to be complete by 2016, there will an expansion of Downtown Disney to include double the shops and restaurants – over 150 establishments. There will be four neighborhoods connected by a flowing spring and lakefront with a signature water tower and grand entry, all with classic Disney favorites and activities for all ages.